Drakons Plunder
by
N.J. Walters Series
: Blood of the Drakon #3
Publication Date
: July 3, 2017
Genres:
Adult, Entangled: Select Otherworld, Paranormal, Romance.
Purchase: Amazon US:
Kindle
/
Paperback
/
Amazon UK
/
Amazon CA
/
Amazon AU
/
B&N
/
Kobo
/
iTunes
Synopsis:
Life is not going well for archaeologist Sam Bellamy. Shes stuck in the middle of the ocean on a salvage boat with people who want her dead. It wasnt her gift for being able to sense objects of power that got her here, rather her need to make a secret society called the Knights of the Dragon pay for killing her mentor. Sam doesnt believe in dragons, but the Knights do, and if she can get one of the sacred artifacts theyre searching for away from them, shell consider it payback.
Ezra Easton is content to run his marine salvage company and live alone on his private island. He may be a four-thousand-year-old water drakon, but hes civilized enough to know just because he pulls an injured woman from the ocean, doesnt mean he gets to keep her
When she wakes up, she has a few tall tales to share, and it seems the Knights are after her. But this drakon wont give up his treasure.
Exceprt
"You have no idea who is looking for me." She shoved the blanket aside and sat up. It was time to get dressed, if she still had any clothes, and get out of here. "These people are dangerous and will stop at nothing to find me. If they dont find a body at the wreck—" She broke off before she said too much.
"So you were in a wreck. I wondered why you were alone in the dinghy. And who is after you?" He stood, looming like a large, avenging angel over her. "You can trust me to protect you."
"You might be willing to risk yourself, but Im not. I need to leave. Where are my clothes?"
As though she hadnt spoken, Ezra continued. "You must be thirsty. Hungry, too. Im starving. How about I make some bacon and eggs? Maybe some pancakes and toast." He left her standing there and padded barefoot into the kitchen. Why did she find it so sexy that he was barefoot?
She was obviously not thinking straight, otherwise she wouldnt notice the way his long hair brushed his shoulders or the way the soft denim cupped his behind as he walked away. Her toes curled against the rug.
She snatched up the throw blanket, wrapped it around her, and hurried after him. "Didnt you hear anything I just told you? Its not safe for you if Im here. The people looking for me will kill you."
Ezra pulled a carton of eggs, butter, and a package of bacon out of the refrigerator and set them on the counter. He added a box of pancake mix and a bowl to his collection before getting several large skillets out of the cupboard.
"Did you hear me?" she demanded. "Theyll kill you."
Ezra propped his hands on his hips and faced her. "Not if I kill them first."
My Thoughts

I received this book from the publisher through IndieSage PR in exchange of an honest review. This didnt affect my opinion of it.
Dragons are by far my favorite subjects in Paranormal Romance novels, theres something extraordinaire in romancing such creatures in my opinion and they have been part of my favorite book series of all times. I enjoy this book more than I thought I would and it was an incredible experience to enjoy a new and unconventional dragon inspired story. N. J. Walters did a great job balancing the romance, the action and the heavy but well thought drakons world.
Ezra is a four thousand years old water drakon living in a isolate island away from troubles and danger but when he received a call from his brother waning him about a suspicious boat near his coast he need to investigate. Sam is an archeologist who specialized in discovering rare and mythological objects when she finds herself been employed by the same people who killed her mentor a year ago, blind by revenge she accepts, determinate to bring the secret society called Knights of de Dragons down. Sam and Ezra find themselves fighting against the odds together in exchange to be alive while the Knights are getting closer and closer to their seclude location.
When I decided to review this book I realized that it was part of a series; I got the first two books to be up to date with the story but only end up reading few pages of the first book. The good things is that you not necessarily need to read the others to enjoy this one, besides the fact that while reading it you find previous characters have small cameos. I understood perfectly every part of the book and never get lost into the details, but I do believe that reading the prior books will give you an insight of the Knights of the Drakons activities and motives.
The story was very interesting from the start; I didnt mind much the synopsis because I wanted to be surprised as much as I could, and I was in a very good way. I love sweet, charming, alpha male Ezra who was willing to give his beloved space to be her own and make her own choices. And I enjoy independent, strong minded Sam who understand she was in danger and she needed to step back a little bit; You know Im so tired of stubborn female leads who believe be strong is synonym of not needing help which is ridiculous, at least Sam was not the case.
In the romance department I have to say that Im content with it, yes, theres inta-attraction and I also believe it was little rushed but I like the chemistry between the two characters and the other aspects of the book help to balance the romance so I wasnt troubled by it. The action was really good, although the climax can be a little predictable that doesnt take away the excitement. And one of my favorite things was the antagonist secret society, I was caught by the evilness of it and enjoying the POV of the members of the Knights.
Overall, I enjoy this book so much: not nearly perfect but almost there. The mere fact that its about dragons catch my eyes from the start and I enjoyed so much this particular view from the author. I devoured this book in one sit and I was left waiting for more, so Ill absolutely pick up the previous book again. I cant do more that recommend this book to you and hope you enjoy it as much as me.
More from This Series
---
---
---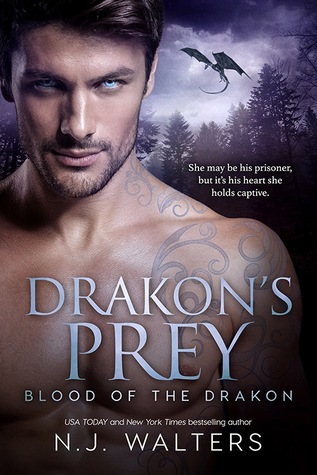 Purchase
---
---
---
Purchase
Amazon:
Kindle
*
Paperback
Amazon CA
Amazon UK
Amazon AU
B&N
Kobo
iBooks
Goodreads
---
---
---
Amazon:
Kindle
*
Paperback
Amazon UK
Amazon CA
Amazon AU
B&N
Kobo
iTunes
Goodreads
About The Author
N.J. Walters is a New York Times and USA Today bestselling author who has always been a voracious reader, and now she spends her days writing novels of her own. Vampires, werewolves, dragons, time-travelers, seductive handymen, and next-door neighbors with smoldering good looks—all vie for her attention. Its a tough life, but someones got to live it.
Website
|
Blog
|
Facebook
|
Twitter
|
Street Team
|
Pinterest
|
Goodreads
|
Newsletter
|
Amazon Author Profile
GIVEAWAY
a Rafflecopter giveaway
Fuente:
este post proviene de
Rosennette
, donde puedes consultar el contenido original.
Creado: