This is our love story, Nelly and Shuai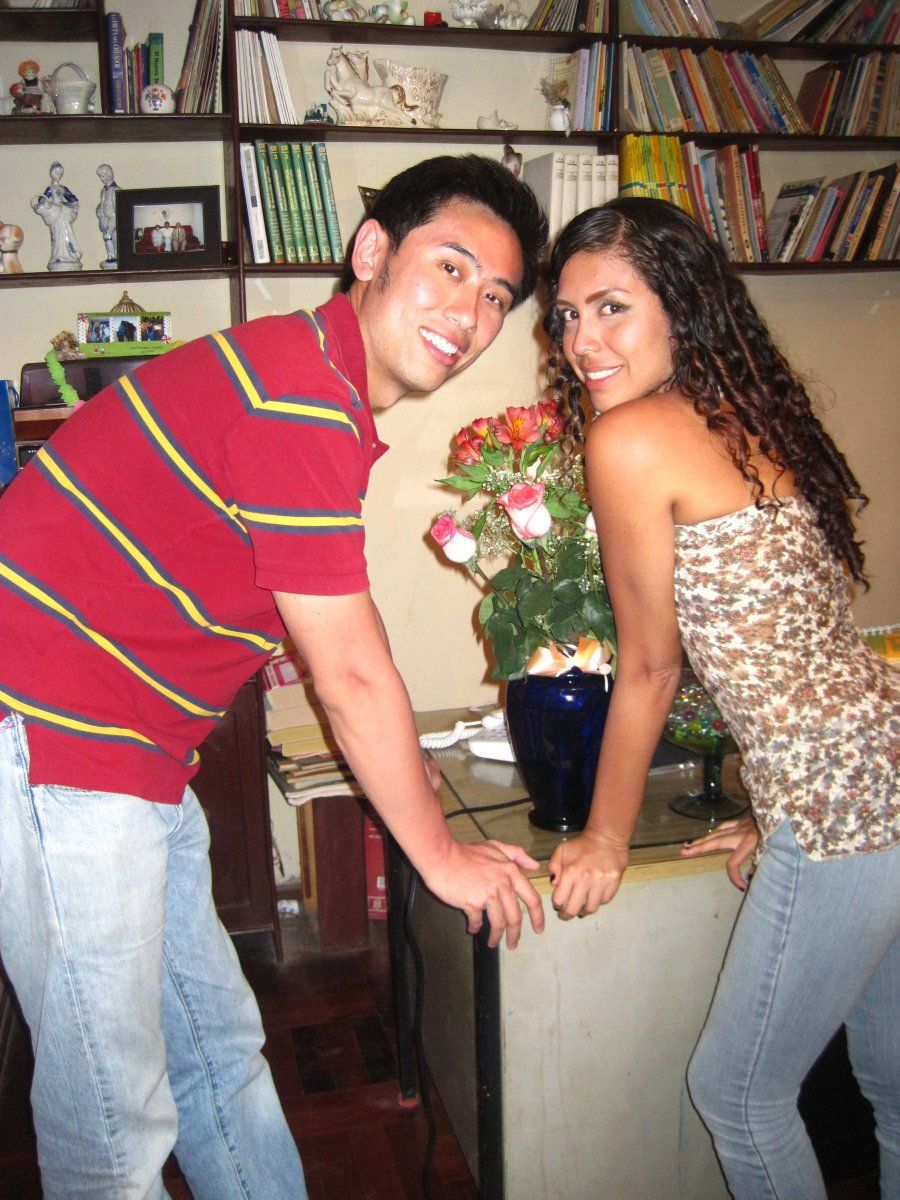 I saw him
…. I saw him the first day I signed up for the website and thought with a passing glance that he was quite handsome and cute…from the picture at least!... So I thought to myself, why not leave him a message? Sure enough, he answered. Over the next few days we messaged each other back and forth before adding each other online and began to talk live…first only a little, then more and more, and with the camera. I admit, at first I also talked to some other guys who also added me on messenger, but when I talked to him it felt different from the start.
He was so different from the other guys. Yes, we flirted, but it was subtle and warm-not blunt. I realized he was kind and never disrespectful like many of the other guys who sent inappropriate messages or pictures of themselves…yuck With each conversation, I began to enjoy his company more and more.
I was never bored, unlike with many other guys that I met before, and soon with each passing conversation we both began to feel something else for each other, something much deeper that gave butterflies whenever I saw him. In no time, we were talking every day, and soon we almost felt a need to see each other by cam every day- as if no day was complete without hearing each other's voice and seeing each other's images
Maybe some people after reading this will think it was very fast with us (from first encounter online to meeting each other overseas in 2 months), but I for one think it must have been love at first sight/site! After all, there were so many guys and girls to choose from on hey ai! In any case, at that point, there was already no need for us to go on Hey-Ai anymore…we have found each other
The weeks flew by; we talked more and more. Our conversations become longer and even more interesting, and I knew we liked each other more day by day. I confess that after I knew where my heart belonged I had to block some of the other guys I was talking to because I didn't want to talk to them anymore…I could not… I had already fallen in love with him but I didn't know if he felt the same or maybe he liked someone else….
One month had passed, and we had talked almost every day…with each day more romantic than the other It was funny because at first we were talking about things like: "What if I met you for real, what if we see each other, etc" but it was only talk, a dream, and not remotely real for me. However, I still had hope that I would one day see him for real…I just had that feeling Then, On March 24nd, he asked me: " What would happen if I came to see you? What would your parents think if you told them one of your 'friends' went to Peru to visit you?" I was surprised. Was he serious? I thought maybe he was kidding, I didn't know what to say…so I stammered: "Um, well my parents would have to know…it would be normal to tell them..." The next day, he sent me a message asking me which dates I would be free to see him and that he'd ask for vacation from work to come during those days. I immediately told him that any of those dates were fine, since I had just finished school and was free every day. Then, on the same day, he told me he managed to get his vacation days approved J He proceeded to tell me he would get his plane ticket soon, but I still had a tiny inkling of doubt at the time. However, I wanted to see what will happen, and when we talked that night he seemed as excited as me while we talked about what we were going to do when he came…in fact ,I was so excited I couldn't sleep
The next day, his ticket confirmation email came (April 23th to May 2nd) …and I felt incredible, unbelievable, and could only think of one thing on my mind. I thought: "OMG, I will finally meet the handsome guy (Asian!) from the cam :O" and I was so happy I almost cried. It's finally going to be real… It's hard to imagine how strongly you can feel for someone before you even meet them in person.
I never believed in that (and he did not believe in it too for that matter) until we had met each other. After he bought the tickets, the days ticked by. Many days passed and I admit we also had many misunderstandings…some from the language (my English is not as good as his), some from the culture (Latin culture is much more open and calida than North American or Asian cultures), but he was always very patient with me and loving.
I could not help but fall in love with him more and more and more We knew, even before he arrived, that we were boyfriend and girlfriend, and we felt like we were in a relationship already. Therefore, we decided to show our relationship to our friends and family (and in this modern age, that means using facebook to spread the message). Right until he came, we sent emails every day while he was working at the office.
Every evening I waited for him to come back so I could talk to him until late. My poor bebito was always very tired XD because he worked 10-12 hours a day and then spent the rest of the night talking to me before going to bed. Sometimes he asked me funny questions because he was nervous about coming here (after all, he's never used a website to meet anyone before…especially someone so far away) He asked me: " Baby, you won't kill me right?" I laughed because he seemed serious with the question. "No, but maybe I will kill you with too much love!" I responded. Then happened another thing that helped cement our love even more…
One evening he told me a few friends had invited him to go to the cottage for a weekend (3 days, I think) but I totally disagreed with the idea since I was afraid. In my country, young people do that for only one thing…and it isn't appropriate at all… I know maybe in his country things are different, but it was so ingrained in my mind what happens during those parties here that I just couldn't stop imagining that he would do the same
Anyways, surprisingly to me…he understood. He told me he won't go, for the sole reason that he wanted me not to worry and think he was a bad guy. I totally didn't expect to change his mind, but that is when I realized how much he actually cared about me. I was going to be worried to death about him if he went…but he did not… I was so surprised and happy … I couldn't believe how lucky I was to meet a guy who didn't know me for real but already loved me…. He was very special with me and he told me he never wanted to lose me …at that point I was already melting for him in his hands ♥
Soon, the day finally came, the day that his flight was supposed to land. I remember him telling me right before his flight: "Please don't be late at the airport and leave me all by myself!" I knew it was his first time here in South America and he didn't know anyone but me; I knew he was happy, excited, and a little nervous/scared as well since his Spanish was extremely limited and he was going to meet someone he has never seen in real life… I knew had to show him how much I loved him and how I'd never hurt him…
The hours came and went at the airport, I was nervous, and I'm sure he was just as nervous on the plane. I remember being in the airport, waiting for the final minute with my daddy (who wanted to be there to make sure I WAS SAFE! Lol, from him!). The flight was delayed a little, which made me more nervous. But at this point I knew I was going to see him any minute and my whole body was shaking and my heart was jumping from the aniticipation…
All kinds of thoughts went through my head: "What happens if he sees me, what if he doesn't like me…etc" and all sorts of things. I was standing there waiting, waiting, looking at every passenger passing through the final check at the airport Finally, after over two hours of waiting, I finally saw him…and he saw me. The moment was magical, the best moment of my life….it felt like slow motion, with all the emotions floating into my mind.
My vision was focused only on him, I saw no one else, just him, walking over here with his eyes locked into mine, smiling (a little nervous). Then he walked closer and closer, until he was so close (omg, he was finally here!) and I could touch his face, smell him, and kiss him for real! I glazed my eyes over him….what a handsome guy! Tall!! And what a HOT BODY!! I was still thinking that, smiling to myself, when he finally reached me and hugged me so strongly I felt a peace in my heart, like I belonged in his arms since the beginning.
I felt shy for a little bit, since I realized he couldn't take his eyes off me and I realized his eyes were much more beautiful in life than by cam… And then, what ***wed was 9 days of ♥pure love♥ (I will let you imagine the rest of the story haha)….and now I feel like now he is my everything…♥
As this story is being written, we are both very much in love and are going strong ♥
As for you, the reader, let this story be a motivation for you that shows you love works online, love works here, and you only need to have faith and talk to the person you like…
Creado: